The Ejection Site
Weber Aircraft ACES II - Rockwell B-1B Lancer version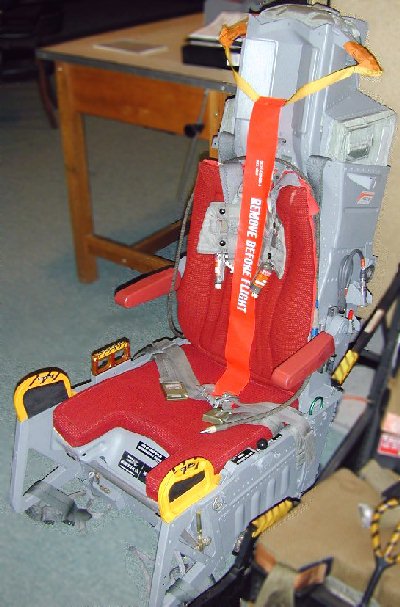 The Rockwell B-1B Lancer is equipped with this version of the ACES II. The four crew stations in the B-1B are equipped with this seat as opposed to the crew module used in the B-1A aircraft. This version differs from the rest of the basic side-pull ACES II seats due to the addition of the armrests and limb restraint system. The B-1B is equipped with a sequencing system to eject the entire crew. The sequencing system can be selected by any of the crewman by means of an AUTO/MANUAL switch at each station. In AUTO acutation by one of the crew will fire all the ejection seats rapidly in sequence designed to prevent collisions between the seats. This is designed to take 2 seconds for all four crew members. AUTO is used most of the time, especially during take-off, landing and terrain following. When MANUAL is used, normally the pilot would announce ejection and the crew members would eject themselves manually one by one with a delay between each to minimize the potential collisions between the four seats, four hatches and the four crewmen.
This particular one is in the collection of Chris Woodul, and has been restored. It was a sled test seat and had suffered damage upon impact. Although originally fitted with them this seat differs from the production seat in the lack of the arm restraint brackets.
The B-1A prototype fleet was equipped with a crew escape module akin to the F-111 escape system. This very large system encompassed the entire cockpit area for the four man crew and was roughly the size of a mini-van. It was eliminated when the B-1 project was restored due to concerns about servicing the pyrotechical componants of the system.
All the B-1B seats were manufactured by Weber Aircraft