The Ejection Site
The Many Seats of Vince Menza
---

Welcome to those of you who followed links to The Ejection Site! The main page is HERE.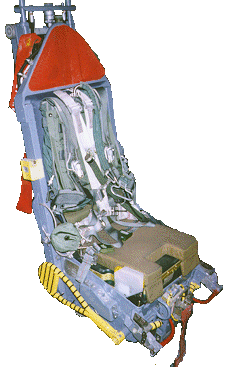 Vince Menza has one of the largest collections of Ejection seats on the East Coast. He has graciously provided the following sample photos of some of his collection. He buys, sells and trades seats in an effort to enlarge and vary his collection. Currently, he has very few seats to spare. We always like to hear from fellow enthusiasts, so you can email me, or email Vince if you have questions. This summer he and I shall take the time to do his collection justice... So stay tuned for updates to this page.
The first seat featured is his B52 DOWNWARD seat. The flight deck crew ofthe B52 gets to exit the aircraft the normal upward direction, but most of the rest of the crew ejects downward, or in the case of an instructor pilot, crawls to the exit and leaps...

---
F-4 Phantom II Mk. H-7 Ejection seat Complete except for the
lumbar pad.
Vince does not currently have any spare seats, but he and I always want to hear from interested people!