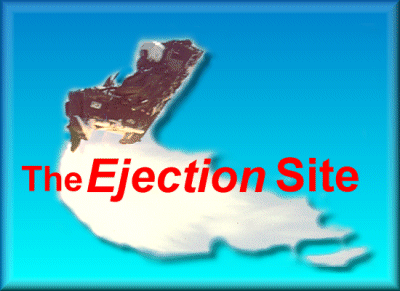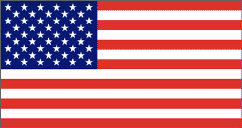 Welcome to The Ejection Site. This sites goal is to educate and entertain people of all interests with details on one of the most interesting fields of engineering. People often ask me why I say that, and here is my answer. Egress systems are nearly unique in the world of technology as they are intended to exist for extended periods and then at need perform an extremely complex and often precise series of events to save a persons life. These systems must work 100% of the time when called upon, whether or not they have been recently checked out or not. They are in an environment where they are exposed to extremes of vibration and G-forces, heat and cold, and must still work.
Modelers- this site was partially done for you. As a modeler myself it was always a real pain to locate details on the ejection seats, which to me is one of the most visible parts of a model's cockpit. So, here you are, color photos and details on many different seats. There are other sites out there who have taken photos from my site and used them (credited or not), but here are the most I can put together. In keeping with the fair use clauses of copyright law, you are allowed to download these photos for your personal use. For use in any other form, see the copyright notice below. I have not used technology to block the download of these photos to allow for you the modeler, researcher, engineer, or just visitor to be able to enjoy them for your personal use.
So, enjoy your visit here, and please write if you have any questions or comments.
---
| | | |
| --- | --- | --- |
| On Sept 14, 2003 F-16C, Thunderbird 6, the opposing solo of the famous USAF Thunderbirds, crashed 25 seconds after take-off at Mountain Home AFB during the "Gunfighter Skies 2003" airshow. The photo to the left, and the in-cockpit video are detailed on this page. CAPT Chris Stricklin suffered only minor scrapes and bruises from this spectacular ejection. The seat left the aircraft less than a half second before the aircraft impacted the ground and was destroyed. | | On July 23, 2010 a CF-18 of the Canadian Air Force crashed during a practice flight for the Lethbridge International Airshow. The photo to the right and the function of the SJU-17 ejection seat are detailed on this page. CAPT Brian Bews suffered back injuries during this spectacular ejection, however he has recovered and returned to service. |
---

I was lucky enough to receive an invitation to Sled Test 781 at Goodrich's Hurricane Mesa Test Facility. This was a 600 KEAS test of an improved F-16 ACES II seat for the US Air Force. Click here for video, photos and a short description of the event!
---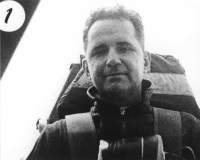 The Ejection Site is pleased to host the following article on John Paul Stapp authored by Nick T. Spark and first published in Wings/Airpower Magazine. COL. Stapp is very important to the history of assisted egress systems as he helped develop sled testing and harness design.
---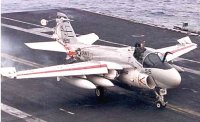 The A-6 Partial Ejection of Lt. Keith Gallagher- This remarkable true story has been circulating around the Internet for a few weeks. I recommend that anyone interested in learning more about it check out the original posting of it with more details, photos, sound clips, and a MPEG of the landing at Mark Gallagher's web site.

---
The Ejection Site logo picture is taken from an official US Navy photograph from the NAS China Lake Sled Test Track Facility. The seat is a Martin-Baker Mk. 10 being tested for use as the SJU-5/6 seat in the F/A-18.

This page has been accessed some 557,620 Times up until 10/23/2012 when hosting switched.
Between March 11, 1997 and April 21, 2001, there were over 55,000 hits. The Ejection Site has been in existence since Summer 1996.
Copyright Notice: All text and images on The Ejection Site are Copyright Kevin Coyne and The Ejection Site (unless credited to a particular person or organization, in which case the named source maintains the copyrights), 1996, 1997, 1998, 1999, 2000, 2001, 2002, 2003,2004,2005,2006,2007,2008, 2009, 2010, 2011, 2012, 2013, 2014, 2015, 2016, 2017, 2018, 2019, 2020 All rights reserved . Any use of the text or photographs for other than personal use is prohibited without obtaining prior permission. For permission, please contact Kevin Coyne with detailed information of which image, or text is to be used, and for what purpose.

No cookies are used on this website.

The images and information contained on this site is intended to be informative and entertaining. To that end, all effort is made to make the photographs as large and clear as space allows. Information is researched, and verified where possible. The photographs and images are carefully edited to increase visibility, and maintain as much accurate color as possible. Please note that due to variations between scanners, monitors, and films the colors as displayed may not exactly match the actual colors.