The Ejection Site
Weber F-101 Voodoo Pilot Escape System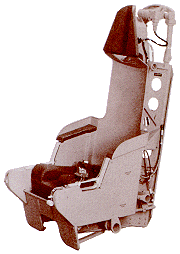 The F-101 Voodoo was equipped with this seat designed by Weber Aircraft. The seat was one of the earlier fully automatic seats. Its capabilitys were from 500-25,000 feet and 125-425 knots. The seat weight was 137 Lbs, 112 Lbs of which were ejectable. The seat is 23" wide 31" long, and 52" high. it was equipped wit the 1250 pound seconds M-3 catapult, and had a maximum 17Gz impulse on launch. The BA-18 parachute was automatically deployed after seat separation.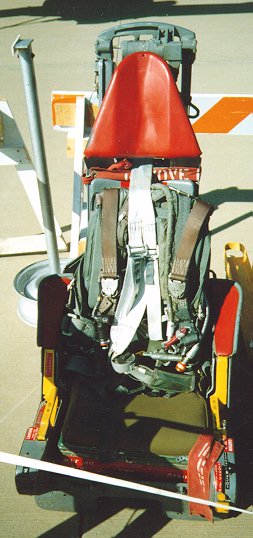 The lower picture depicts a restored F-101 seat on display at an airshow. For more photos of a Weber F-101 Voodoo seat see this page.
Thanks to an Chris Woodul, Curator of the Jet Age Museum, for the picture of a seat he used to own, and to Weber Aircraft for the use of the upper photo from one of their brochures.